The US Navy has seized an un-flagged skiff stuffed with hundreds of automate riffles in The Gulf of Aden, and has handed the sailors over to Yemeni authorities, a defence official told. Investigators have not yet ascertained where the boat came from or where it was heading to, but it was boarded in the area where the US Navy had confiscated Iranian-supplied arms destined for war-ravaged Yemen in past.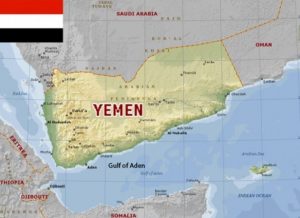 "We're not ready to pin this on anyone yet; we are doing an investigation of the evidence." The US official said, on Thursday, August 30. The invasion took place on Tuesday when US navy forces on the USS Jason Dunham (DDG109)    stationed in the international waters boarded the vessel and seized a large cache of small arms, including more than 2500 AK-47 automatic rifles during counter trafficking mission on August 28. Near about 600 bags stuffed with small arms, mostly AK-47 totaling 2521 riffles were found.
"As a part of our counter-trafficking mission, we are actively involved in searching for illegal weapons shipments of all kinds," said Vice Adm. Scott Stearney, commander of U.S. Naval Forces Central Command, U.S. 5th Fleet, and the Combined Maritime Forces. "Ensuring the free flow of commerce for legitimate traffic and countering malign actors at sea continue to be paramount to the U.S. Navy and its regional partners and allies." The skiff sailors were then handed over to the Yemeni Coastguards. Their nationality was not released. Jason Dunham is ground to the US fleet area of operations for aiding naval operations to ensure maritime stability and security in the region connecting the Mediterranean and the Pacific through the Indian Ocean and three tactical points. The Gulf of Aden is a calculated location which connects the Red Sea to the Arabian Sea and the Indian Ocean through Bab El Mandeb strait. With Yemen and Somalia situated in north and south vice versa, the Gulf of Aden has been used as a passage in past also, to smuggle arms to those countries.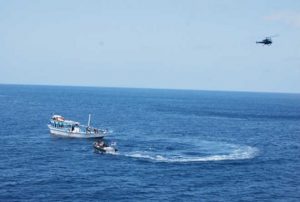 The weapon seizures of past follows four major capturing in 2015 and 2016 by combined efforts of Maritime Forces and US Fleet assets. In September 2015, the Royal Australian Navy's HMAS Melbourne intercepted a dhow carrying 75 anti-tank guided munitions, four tripods with related equipment, four launch tubes, two launcher assembly units and three missile guidance sets.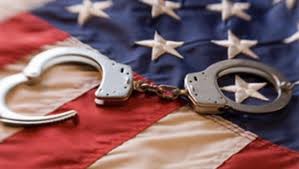 The second seizure was also made by the same Navy in February 2016, seizing 2000 AK-47 assault rifles, 81 rocket propelled grenade (RPG) launchers, 49 PKM machine guns, 39 PKM spare barrels and 20 60mm mortar tubes from a sailing vessel.
In March 2016, the French Navy destroyer FS Provence confiscated around 2000 AK -47 assault rifles, 64 Dragunov sniper rifles, 9 anti-tank missiles and 6 PK machine guns with bipods. Later in the same month one more dhow was intercepted with 1500 AK -47, 200 RPG launchers and 21.5 calibre machine guns.
The smuggling of arms and ammunition is a matter of great concern and an alarm for the industry to keep its name sake in the excellent form it is.