We are here with Master Mariner Capt. Abhishek Arora.  It's an immense pleasure to have a tété-á-tété with you, sir. Our readers would cherish to know the marine world through your experience. Transcript of conversation with Shivam Sargam.
Q. Sir, You have sailed for nearly 21 years and still sailing. What motivates you for the same?

Yes sail for nearly 21yrs and still sailing, sounds a big number but for me, it's a proud profession.
I came at sea raw with excitement to sail around the world, the nervousness of staying away from family, in fact not seeing them for months and zeal to bear my finances and responsibilities. I enjoyed the feeling of total solitude when we are in the middle of the ocean, thousands of miles away from civilization. The ship is in effect, a small close net community.
Motivation comes from all directions. Trying to master the moods of the sea. Still learning the winds and sailing through them. Breaking the common myths that are attached to the sailor …wearing many hats and earning bread and butter with honesty.  Below is the perfect quote, which motivates me —
"It isn't that life ashore is distasteful to me. But life at sea is better." -Sir Francis Drake.
Q. Share a moment or incident with us that holds your head high with pride, as being part of the shipping industry.
Well, in my two-decade carrier the moments to cherish are countless but I can say with pride that under my watch and under my command, there isn't a single marine casualty or crew injury. So this is a proud possession I have. And I would like to keep the safety flag held high and always forever. Safety has been paramount in all my sailing trips.
Q. What are your views regarding the blockchain technology slowly evolving into the industry?
Shipping and Maritime Industry are going to witness one of the biggest transformation and revolution with the implement of blockchain technology. Blockchain technology enables distributed public ledgers that hold immutable data in a secure and encrypted way and ensures transactions can never be altered.  Excessive paperwork is a time consuming affair. So, by using this digital distributed ledger technology where every information exchange is marked by timing. It gets stored in chronological order and thus becomes easy to trace and track.
Blockchain technology has the potential to revolutionise the maritime industry and bring it into the 21st century. This complex ecosystem could greatly benefit from a robust digital platform to exchange data in real-time. It's being tested in the Maritime sector from the year 2017 onward.
Major benefits of adopting Maritime blockchain technology is, speeding up document flows, cutting down bureaucracy. Blockchain not only makes cargo flow/checks faster, but it also minimises the risk of penalties for customs compliance that are levied on customers.
The maritime industry can also benefit from predictive analytics so this decentralized process will bring transparency and traceability. In short, lesser paperwork, lesser cost, time-saving and increased efficiency.
However, data alone can't change the way the currently maritime sector works. Shipping Companies, ports, and respective governments need to analyze the information to reap real benefits from the findings. This industry generates about 100-120 million data points every day. It was impossible for existing technologies to gather and analyse this amount of data efficiently.
Blockchain can help by placing the crucial data in one place and creating a unique platform for solution providers, ports, and agents that operate along the supply chain.
By tracking cargo in real-time using blockchain technology, shipping companies and ports can plan land procedures ahead of time, speeding up terminal works and cutting down costs. They can also use data to make educated predictions that enhance their operations and increase efficiency.
Maritime blockchain increases trading safety and transparency.
Q. DGS has made strict rules regarding the recruitment of seafarers in your opinion how can industry deal with that?
Look at the brighter side, rather them stating them as strict rules. These are in the long run for the betterment of the whole shipping industry and seafarers.
As in past, with the help of agents nexus, 2nd grade institutions and upfront money paying,   inexperienced, unskilled, untrained seafarers managed to grab onboard jobs and poses a safety threat to the ship and fellow seafarers. To break this fraud chain we need and hawk eye and strict guidelines and recent steps taken by DGS, like strict norms for RPSL, e-Immigration, MIT's performance review, SID, INDOS, E-Governance (Online Certification) are few steps to achieve that.
In the last 2 years, numerous changes have been made in the recruitment process/training standards /certification process, about which seafarers are either not fully aware or hesitant to use the online process. In my view, shipping companies should dedicate one nodal officer, who can guide update the seafarers on the latest changes and assist them a proper process for certification/training.
Q. How it is like working with Wallem and holding such a responsible position. How has been your experience?
Wallem Ship Management is certainly my new family but my parent company has been Essar Shipping Limited. From being a cadet to rising up to the rank of Master with them has been an overwhelming journey. In 2018, I moved to Wallem Ship management, and become a part of one of the oldest ship management company. Sailing is always a gaining experience, last sailed on one of their VLCC named Gener8 Strength.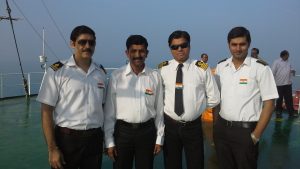 Q.Share your views for the automation of the industry?
Automation is not a new phenomenon for the Marine industry. In terms of automation, the maritime sector/ships are way ahead of systems used onshore and use of automation on ships can be track back to the 1970's. Technologies / Automations are never harmful, it sets new productivity standards. The ever developing technological solutions will aim to bolster safety and security, and bring cost efficiency for Ship owners by fine tuning onboard machineries / plans and system.
Q. Any message for the young seafarers.
Seafarers generally lack practical advice, so one real-world advice would be
"Start saving for your retirement at an early age"
"Be Safe and Work safely for the family" as I always use below phrase onboard to motivate my crew to work safely….. "Koi Ghar Pe Dhekhe Rasta…" 
"Stay focused and spent your energies to work for the betterment of the society. Move towards a sustainable happy living"
Thanks a lot for your valuable time.  We wish you all the luck!