BY- SHIVAM SARGAM

The actuality of international gender inequality in the workforce is undeniable. However, it is even more profound in the traditionally male-dominated maritime industry, where women make up a mere 2% of the workforce.
Although the maritime industry has embraced initiatives towards closing the existing gender gap, the integration of women into the maritime industry has been at a sluggish rate due to various impediments. This paper not only traces the issue of the gender imbalance to its historical roots but also highlights the current impediments and challenges unique to the maritime industry towards achieving gender equality in its workforce. Using a review of literature, this paper also brings forward the various initiatives put in place to facilitate the integration of women into the maritime sector and suggests recommendations for the same. The paper says that women are a growing force and the need to close the gender gap is widely accepted. However, even though many initiatives have led to an increase of female presence, there is room for further efforts.
Shipping is one of those very few industries which has the lowest number of women workforce. Be it the traditional mind set of the "male dominated" industry or the lack of awareness, the paltry number of female seafarers clearly states that very little has been done to encourage women for taking seafaring careers.
Lack of awareness and information:
Maritime industry is unknown to many young female lads. Students mostly opt for main stream careers such as IT, computer science, electronics or medicine. It is pretty required to improve career awareness and preparedness.
Male dominated sector:
Shipping has historically been a male dominated sector and that tradition runs along till date. There is a mindset that women can't work onboard. There is also a fear among women to enter the sector that male dominated in true means. All they need is little encouragement and motivation.
No or less support:
Women generally do not have the adequate support (Both from family and society as well). Supporting the dream of ones' child be should be the sole motive of the parents, irrespective of the gender of the child. Marine industry is a gloomy sector but with the support of family it can be made easy.
Less Acceptance by Companies:
The acceptance by the company is the tough part too. There are several companies who simply deny recruitment of the women seafarers. They do not even entertain them beyond the table of reception. Lack of workplace support keeps such women out of their career. Looking beyond the gender inequality and giving the equal opportunities. The gender-gap should be abolished. Companies should alleviate the gender gap and promote gender equality and empower women. Only when we eliminate workplace sexual discrimination can we put these issues behind us.
Social Cultural and Practical Obstacles:
The long stay at sea does not allows many women to go onboard. Either family or the kid binds them with the strings that is difficult for them to break. Finding a balance between demands of work and family has been a common issue.
Lack of workshops and seminars: The absence of organisations and regional networks is yet another reason for less women seafarers. Such organisations can conduct workshops and seminars to help young women exchange their views with experienced women seafarers and to help them develop a strong presence in the maritime sector. Other options that these organisations can provide are mentoring and sponsorship. They can create support groups and help in enhancing career preparation. This will push more women seafarers in this industry.
Presently onboard Ms. Romeeta Bundela, Electrical Engineer, the first Lady ETO of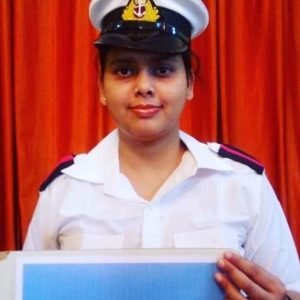 Maersk Line, handling 1500 reefers in IARD along with engine room job orders, says during her college training period she was single lady with 40 male candidates. I worked and studied with them. My college life prepared me and helped in making my life easier onboard.
In starting people doubted my working capabilities which is quite natural tendency of human being as it is a male dominated field. To judge….and the only way to proof yourself is your performance, behavior and attitude towards your work.
"The value and respect from coworkers is fully owned and it depends on your performance onboard."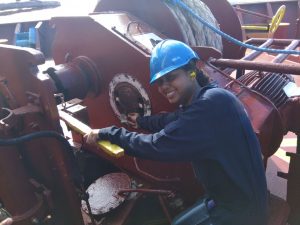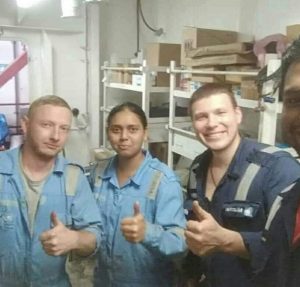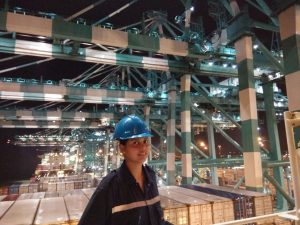 Job security:
Most of the private shipping companies provide contractual employment and do not have remarkable retirement benefits. Just like male seafarers, this is a concern for many women seafarers who look for job stability and retirement benefits like pension.
Majority of the women prefer jobs with a stable source of income and a planned retired life. This is also a reason as to why women hesitate to join this industry.
Their experience in the marine industry and with the marine people around is being shared over.
Mamta Kanwar Sisodiya, Deck Cadet
 Shipping is one of those very few industries which has the lowest number of women workforce. Blame it on the traditional mind set of the "male dominated" industry or the lack of awareness, the paltry number of female seafarers clearly states that very little has been done to encourage women for taking seafaring careers.
"Empowering women isn't just an idea or a concept.  It is a necessity that requires strong, positive action to address deep-seated structural, institutional and cultural barriers." In maritime sector.
Although the number of women graduating from universities and other educational and training institutions with oceans and maritime programmes increased rapidly in the last few decades, their engagement, retention and promotion to leadership in all areas of ocean activities – and particularly the shipping related maritime sector – has lagged. Equal opportunity must be given from maritime colleges itself. This is the case not only at the seagoing-seafarer level, but also in the numerous connected activities in ports and logistics, as well as legal and other services.  While explanations for this slow progress – the "gender gap" – vary depending on the specific area of activity, the key point is that the failure of the maritime industry to attract, employ and retain women as employees and also promote and support women in leadership roles represents a significant lost opportunity.
"I strongly feel that encouraging women can provide more growth to industry as well as too respective country. We don't demand protection, we want equal opportunities."
Higher authorities must think about it and should support, encourage more lady seafarers to join the industry. As equality for women means progress for all.
Maritime industry should strive more for providing great employment opportunities for male and female seafarers alike. Some drastic moves needs to be taken to bring awareness among prospective female seafarers and to enhance policies supporting their welfare. The schools can give career guidance and counseling by addressing young women on careers in the maritime world.
These are the views and experience of the lady seafarers. We would be glad if you like to share your experience with us on contact@themarineexpress.com.