Capt. Sumant Varma & His crew saved 22 lives amid a cyclone.
The agony of life at sea are countless. Stormy weather and nearly non-existent social life, months of parting from friends, family and folks. Lack of amenity makes a sailor's job tough from those of others. But simultaneously, life aboard a ship has its own share of endless adventures and amazing moments.
Sumant Varma, a captain in merchant navy, had his most incredible moment when he headed valiant rescue operation at sea. His wife, Vanya, who was with him at the time, witnessed her husband's story of bravery.
Sneak Peek into his life
Sumant voyaged a lot in his initial years, living all over India and Nepal. His love for travel led him to join the merchant navy in 1983 as a cadet.
Capt. Sumant has travelled around the world several times. From the aurora borealis near to the Arctic and to the pirates trying to board the ship in Somalia. He had all sorts of bitter & sweet experiences, anxiety and fear as well. Being struck in the mid ocean when the engines broke down and to being caught in the eye of a disastrous cyclone, when everything on a ship seemed unstable. Being away from home amidst ocean without any network has made life tough. Though the Internet is of a great help for sailors to be connected to the outside world.
Act of Bravery
In the year 2017, on 30th of May, the two main seaports in Bangladesh, Chittagong and Mongla, postponed cargo operations and shut down ports after the warnings of a powerful tropical cyclone TS Mora striking the shores. Military forces, rescue and medical teams were kept on standby with the apical warning signal of a number ten, all ships at Chittagong were asked to abandon their ports.
Heeding the warning, MV Dubai Knight, the ship with 25 crew members including Captain Varma and his crew sailed 200 nautical miles away from the expected route of the cyclone. The ships and their crew sailed to relatively safe place, still there were fishermen at sea unaware of the forthcoming danger. The fishermen who had already sailed out few days ago, were unaware of the impending doom. They were totally ignorant of the intensity and velocity of a deadly TS Mora. Around 7.30 in the morning, spellbound by pelagic life forms having spotted dolphins just the prior week, she looked out her window hoping to see what nature had in store.
She spotted some algae-like lying on the surface of water with moving extrusions. As it came closer to her horror she realized that they were human arms desperately waving out to catch attention of the watch keepers in the moving ship.Under extreme fright, she called out her husband Capt. Sumant to show him the sight of striving survivors.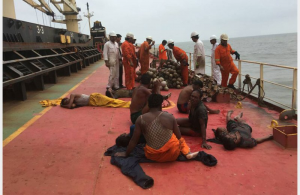 Simultaneously, another officer calling from the brigade reported spotting the same sight and asked for directions on the course of action. Capt Sumant reacted immediately instructing the ship to be turned around and rang the Designated Person Ashore (DPA) for permission to deliver the survivors of TS Mora.
Navigating a loaded bulk carrier in the situation following the TS Mora was quite difficult, but with God's grace and a very capable crew and officers, all 6 survivors were picked up. The six fishermen picked up were actually a group of 10 whose boat was destroyed on 29th morning. They had been swimming on buoys for three days without food and water. Vanya says all the 10 fishermen could have been saved. Few ships had passed them but conveniently looked the other way even after spotting them, as not many want to take unnecessary burden and work. This callous attitude had reduced their number from 10 to 6.
The survivors were so lifeless that they even had problem drinking water.They seemed totally overwhelmed. Even drinking water down their parched throats was painful for them. First aid was executed and dry clothes were given to the ones who had lost theirs in the fight to stay alive. Thankfully, there were no major damage, but their faces were bloated and eyes were blood red. As MV Dubai Knight made its return journey with the survivors, watch keepers looked for more survivors. Around 11.20 in the morning, they spotted an even bigger group of people.
It seemed like over 16 people were holding onto their fishing buoys and each other, waving their agile arms. Capt. Varma made another urgent call to the head office, and then once again the salvage operation commenced. This time the sea was much wavy and the weather stormy due to Mora Madame's wrath. Salvage in wavy weather is always a difficult and dangerous task, but Capt Varma and his crew held their nerve during the operation.
Initially due to the larger waves the ship was turned around and could only pull up one person. The others, unable to withstand the strong currents were taken away to rear of the ship. "The vessel was turned around the second time and painstakingly, once again, lines were thrown, as few more swam with all their might towards our ship, they were pulled up with care into the strong arms of safety and life. Slowly, over a physically and mentally exhausting 90 minutes, a total of 16 fishermen were pulled up on deck. Their eyes were glazed over and faces wore a numb expression, but gratitude was largely written all over them." says Vanya describing the terrifying scene.
The entire crew on the ship spared no effort to help make the 22 survivors comfortable after the torment they had been through. With what must've been the longest three days in the lives of these survivors, they were grateful to be alive and breathing. Vanya ends by saying, "All the 22 survivors disembarked on a navy appointed boat.
The crew went back to cargo discharge and I to my porthole watchkeeping, humbled and thankful to God for having given to us this opportunity to render assistance to 22 precious lives."The fearlessness shown by Capt Varma and his team came in for much appreciation by the maritime world. Capt Jitendra Misra, Managing Director of Emarat Maritime, says, "I am extremely proud of the prompt and professional actions of the crew on Dubai Knight.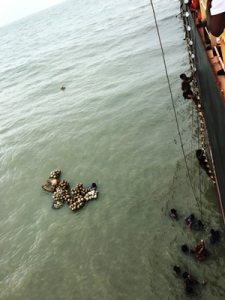 Despite having gone through a very rough and harrowing time negotiating tropical storm Mora, they followed the age-old tradition of saving distressed persons at sea and the assistance they have given these 22 shipwrecked victims of storm Mora undoubtedly made the difference between life and death."
An act such as this revives one's faith in times where chances of survival seem bleak. Capt Varma held his ground and proved to be nothing less than a saviour to the people rescued.
His story is beyond doubt, inspiring and Capt. Sumant Varma
"A Rousing Legend"!