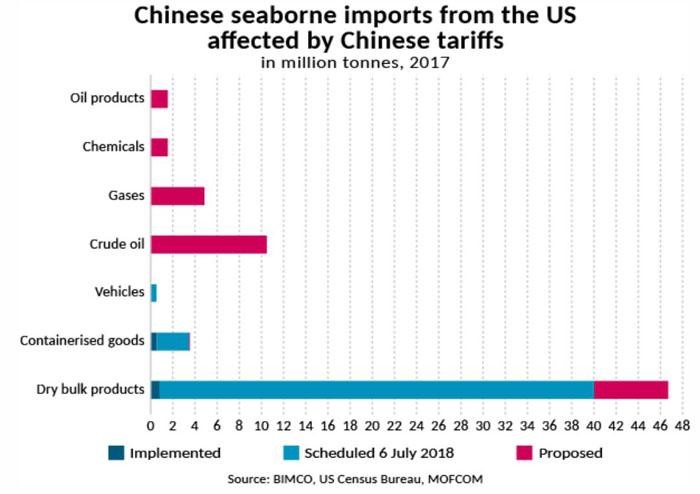 Tariffs imposed by China jeopardize immensely the business volume of dry bulk shipping industry. In the last year, China imported 32 million tonnes of soya bean from US and that is like 22% of the total trade volume of soya bean through sea or 640 Handymax loads (or 50,000 tonnes) by single commodity cargo route. As per BIMCO's April report, this action would result in abrupt substitutional rise in China's import of Brazilian soya beans in the following months. For instance, Brazil exported a record 12.35 million tonnes in May 2018 through naval route.
Execution of the planned tariffs of US 16 billion may cause alterations to trade lanes for the gas shipping and tanker industries as well in general and US crude oil exports in particular, as in the last year, China consumed 25% of all US seaborne crude oil exports.
Peter Sand, BIMCO's Chief Shipping Analyst, highlights that US's both dry bulk and crude oil shipping industries are somehow reliant on China. There will be no decline in Chinese demand for the commodities in question due to rise in tariffs, but off course change in distance for alteration of tread lanes is a matter of concern. There is a potential loss of one third of the distance if the revised tread lane for crude oil is routed through West Africa.
EU: politics behind preferring products for tax manipulation
For responding to US's non co-operation towards exemption, the European Union discloses imposition of tariffs on targeted US goods like cereals, steel products, bourbon and motorcycles having immense connection to politics, worth USD 3.4 billion with effect from 22nd June 2018.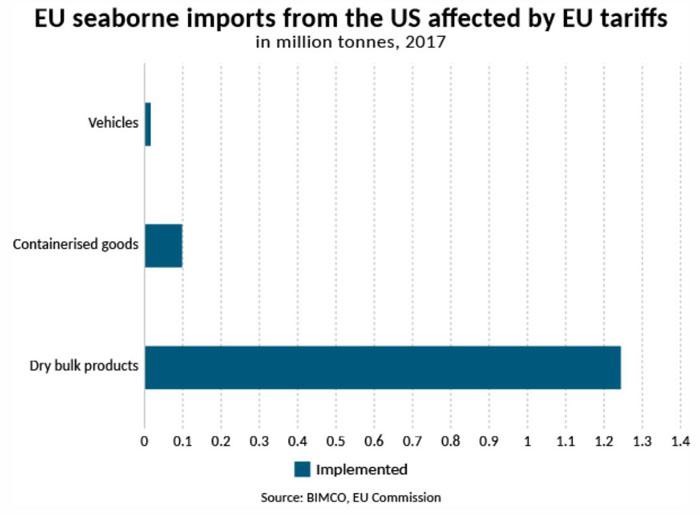 This new tariff encompasses goods estimated to be worth 1.35 million tonnes of trade between the US and the EU in 2017. Out of the 1.35 million tonnes, 1.24 million tonnes accounts for the targeted dry bulk goods moved from US to EU equivalent to 24 Handymax loads (50,000 tonnes). Out of that 1.24 million tonnes, majority amounting to 1 million tonnes consist of farming products with a vast share of maize with 90.5%. The remaining is marked up with metals like steel and aluminium.