Transcript of conversation of Chief Engineer Archana Saxena Sangal with Shivam Sargam.
Q1. Can you please tell us a little bit about yourself and your idea behind MarinArch?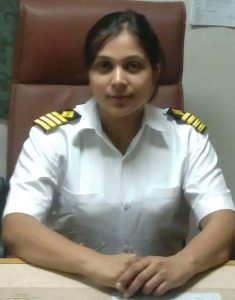 I am a Chief Engineer. I have sailed for almost 10 years. I have also worked as Technical Superintendent in Tolani Shipping Company Ltd. And Crowley Accord Marine Management Pvt. Ltd. I am from Dehradun and presently based in Mumbai, Maharashtra.
I am the director of MarinArch. It's a live tutorial class for the seafarers. When we used to give exams, we did not had such guidance to clear and pass the exams. The idea behind the coaching was that the seafarers don't have to leave their families while preparing for their exams. They can study in the group being with their family at the same time. With technology it is possible.
Q2. What upgrade, do you think can pull more youth especially women to pursue sailing as a career? Do you think women lack security at the sea?
There are more women into this career now. The family should also support shipping as a career for the girls. Though the number has increased, still, more awareness is required. For men, it's already an eminent career. I have never had any experience as such that there is a lack of security at sea. It is a very wrong conception. The people who are working at sea they also have a family. I don't know why people think that the sea is not safe or their girls are in danger. It's all about how we carry ourselves, whether it's a ship or it's an office. People with the wrong mind set can be found any and everywhere. It doesn't necessarily has to be in the sailing only. There are some sets of rules I have followed for myself in my sailing days, and this I would like to convey to the women seafarers too i.e. Be Professional and carry yourself with dignity. It will help one to go to a long way.
Q3. This isn't exactly a usual career choice… What first moved you to the sea?
I have done Marine engineering from Tolani Maritime Institute. I had done 12th from Dehradun. My favorite subject was science only. As I was good in science I wanted to be an engineer. I had no idea about the marine field because in my family there was no one into the sailing. There was an advertisement in the newspaper from Tolani Maritime Institute for Marine engineering and starting salary mentioned was Rs. 40000 per month. I had seen many engineers of various branches but they were not earning well. I wanted to be an engineer and to earn good money. So I filled the application form. Nothing else I knew about Marine Engineering. At that time, Dehradun lacked good engineering colleges, so I wanted to move out and have my career in engineering. Traveling the world and meeting new people and of course enjoying the beauty of nature were the other reasons but the starting salary was the trigger point to move to the sea.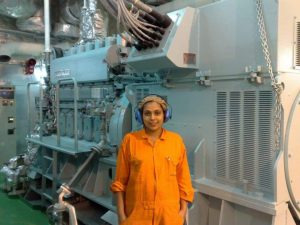 Q4. Apart from sailing, what do you like to do?
I am a happy-go-lucky person. There are so many things, I enjoy doing. Sailing is a part of my profession. I like to dance. Chatting with friends. Traveling and socializing. Spending time with kids, cooking for my family. I am always upgrading myself with the technology.
Q5. What's the most rewarding part of the job for you?
Sailing was my best experience and that was the thing I feel was the most rewarding part of my career. I am not on sail presently but still, my certificates are valid I can go for sail anytime. We get COC from the government and it feels very proud to earn that reward. I could go to so many places. When I was a technical superintendent that job was also very nice for me. Only thing was that I had small kids, I had to travel from home to office and office to home. It became difficult for me to manage both office and house at the same time. It didn't suit me otherwise the job was very good and interesting. I really enjoyed and even now I am connected to my office colleagues. I had to think of something else. So I came up with the idea of MarinArch and this is doing really well. It feels very nice that there are lot many people who know me. Though we have not met or seen anyone we meet through the virtual media. Even my past has been very satisfying for me. Whatever you do, it should suit you.
Q6. Please tell us more about your role as a technical superintendent.
In my case, I was offered this job by my company and that was the reason for us to move to Mumbai. We came to Mumbai for the holiday and I went to my office and I was offered the job of technical superintendent. Though I had a 3-month baby, the superintendent job offer was the best thing available for me at that time. So, I accepted the offer. I was fortunate that I got this opportunity.
Q7. Ma'am you have worked at different levels in the marine field, working at sea to the working on shore. Which part of your work did you enjoyed most?
Sailing of course. It was a very good experience undoubtedly. When I was in office traveling daily from home to office & back home was a big headache for me. On the ship you get to enjoy pollution free weather. You get to see the beauty of nature. And the best part is that when you are at home you are completely at home. When you are at sea, you are at sea. You don't have to worry about home when you are at sea and similarly, when you are at home you are completely at home and you are a family person. I liked that working pattern very much.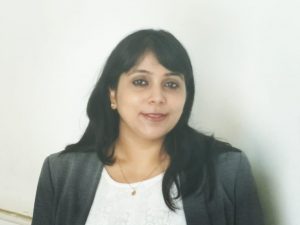 Q8. What message would you like to convey to the women at sea?
Good job they are doing. Keep it on and make other females aware of this. Don't leave the sailing or your study in between. You should reach the top ranks.  It's a very rewarding job. There might be trouble and low moments, but it will be a temporary phase only. You should look beyond them and always strive to reach the top. As you become a senior, a lot of responsibilities will come on your shoulders. The power and respect will also come to you from all the directions. Prove your company that you are an asset for them. Reach to a level, leave your imprints and then quit by choice, not by compulsion.
Thanks a lot for your precious time. We wish you luck in all your endeavors.