Transcript of our conversation of 2nd Engineer Officer, Shuchi Malik with Shivam Sargam.
Q.1 Can you please tell us a little about yourself?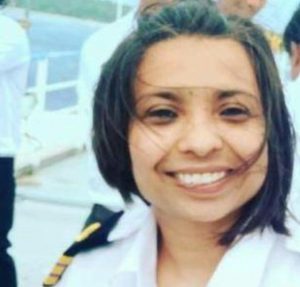 Myself, Shuchi Malik, I am working as a 2nd Engineer with Admiral Ship Management. I have had done my Pre-Sea training with Great Eastern Institute of Maritime Studies (GEIMS) and then sailed on their ship. My native place is Meerut (U.P.)
Q.2 What led you to the sea?
Financial security and my choice to visit different places which wasn't possible in any other field to this extend. There was going to be a practical exposure of machineries
which I had theoretically learned during my college time. That aroused my interest level and led me to the sea.
Q.3 Life on ship is very hectic. What would you suggest the young seafarers to keep the mental peace even in adverse times?
Life on ship is very hectic and challenging so one definitely needs to keep the mental peace. Always one has to maintain the positive attitude. Any adverse situation is not going to continue forever, the situation will have to improve and so you have to keep trying. Always respect your co-workers. There are times when you cannot go on shore leave as loading and discharging are going. There are time constraints. Don't get affected by such situations. You job is your responsibility and priority.
Q.4 How was your sailing experience? Have you ever encountered any situation that held you back going ashore?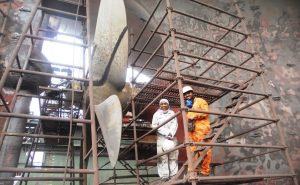 My sailing experience so far has been pretty good. I have worked on tankers, bulk carries and passenger ships too. I have experienced several moments when we felt like nothing can be done now, as the machines stops functioning. The coordination of engine and deck with the shore assistance helps in improving the situations. Always be ready to go extra miles and then you will never feel disappointment in any situation.
Q.5 What upgrade, do you think can pull more young lads especially women to pursue sailing as a career?
If sponsorship is given, means security of job at the starting level, it would lead to changes. The biggest challenge for young people, is that they pursue their career but there isn't hope for getting the job on ship. This is worst in case of women seafarers. Most of the companies are not willing to take girls for sailing.
This must be changed, then only we can expect more women choosing sailing as their career. There is sexual harassment policy, you can directly contact the authorities if you don't feel safe or threaten, and Marine sector is taking care of security of women. So by all means sea is an awesome career for all, irrespective of their gender.
Q.6 Apart from sailing what does u like to do?
I like to socialize, visiting relatives, friends and relax at my family house in village and read books, do lots of shopping.
Q.7 What is the most rewarding part of the job for you?
Exposure to different culture and visiting different countries, I feel it is the most rewarding part of my job.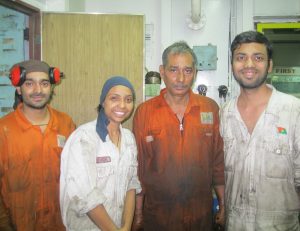 Q.8 What are your future plans, are you planning to be a part of other business as well? Or how long have you planned to sail?
Immediate plan is to finish my sea time and appear for exams of chief engineer and become a chief engineer. It is not only sailing it's a huge marine industry which includes sailing. 80% of the transportation takes place by ships only so there are many opportunities on land related to marine field, so I am open to any possibility. I think 10 more years or less I am planning to sail depending upon the situation as it comes. All I want is to be a part of marine industry.