Life of a Sailor's wife is as tough as that of a sailor's life. The prime reason and strength behind a sailor focusing on his duties onboard is his spouse. He knows his wife is strong enough to take care of her and the family. While the sailor faces storms, bad weather, pirates at sea; a sailor's wife faces the fear of the unknown.
"No doubt a sailor's wife is a queen, but being a sailor's queen isn't easy."
Here is a story and life journey of a sailor's wife, Mrs. Shalini Singh, in her own words.
I never contemplated on what challenges a mariner's wife comes across until I wrote this blog, even though I have lived through them since I got married in 1998. Soon after finishing my graduation in Science stream, I got married to Ravindra Prasad Singh who was working as a marine engineer in a Shipping company with a base location in Mumbai. Like a multitude of girls in India, I too had to move from Patna to Mumbai to live with my husband.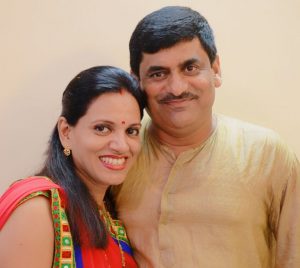 No later than a few months, Ravi had to sail. He did his best to explain how things work in Mumbai as I was still new to this place and metro life. He made me feel comfortable before he left for his first sail after our marriage. Things that sounded a cake walk initially, turned out to be pretty challenging. It was quite a struggle initially, but I started to cope up with everyday tussle. I started to understand the local dialect, crowd, and busy roads and so on and so forth.
While he kept sailing, I thought of learning and enhancing my skills. Being alone gave me time for self-analysis and to uncover my potentials of learning something new so I completed a PG Diploma in computers, a boon in disguise.
While I was going through the daily struggles and getting accustomed to them, I hardly used to get a chance to talk to Ravi as back then Internet facilities were not available on sailing ships. Unlike today, when we can make video calls to any part of the world at the cost of almost a penny, communication back then was a major issue. Occasionally I used to have a telephonic conversation with him, as that too was expensive those days and mobile was not a household thing. In those short conversations all, I wanted to know how he was doing and how soon can he get back home. It was Ravi's last two sailings with Maersk Line ships where there was direct e-mail facility available for ship staff and telephonic communication was easier. With the advancement in technology, life is much more comfortable now, you are just a fingertip away even when your better half is far- far away on a ship, as the internet, video calling. Etc are there to communicate. But still being there in person is more comforting than being on a phone call or video call.
Little did I know that this was just the beginning of the hardship that I will have to face being a mariner's wife. About three years passed but I understood that there are many things to come. Ravi had to sail again and, this was the longest he had ever sailed until then. With four months of pregnancy, I had to go back to my native place (Patna) knowing that he won't be my side in the most precious moment of our life.
With frequent problems with the satellite communication system and phone, I used to write him letters every week with all the advancements and information about my pregnancy and well beings of my in-laws. He would receive my letters only when the ship reached the scheduled port, sometimes he would receive many letters together. Ravi was concerned about my health all the time, but I was convinced that as long as my parents are with me nothing can go wrong, eventually, that phase passed and our daughter Adrija was born.
Ravi saw his daughter after about 2 months of delivery when he came back from sailing. If there is any best part of a Marine engineer's job then it's the time after the sail, when he is with his family with no official work at all. But, if rank promotion exams are pending, mariners study hard during their leave period that I witnessed.
Adrija and I accompanied Ravi on the next few sails. It was exciting and adventurous at the same time I experienced the hardships that mariners face during the sail. The voyages were fun, the only spoilsport was the rolling during the sail which caused nausea. We enjoyed exploring the various ports that the ship anchored at.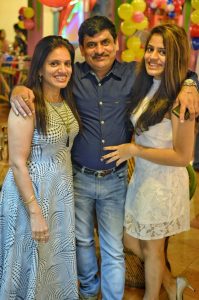 Experiencing unexpected circumstances are quite common while you are on board. On a sail with Ravi, water level suddenly rose, because of which, we had to use a pilot ladder to disembark at a port. It was adventurous but with a 3-year-old toddler, it was scary as well. I was getting the hang of being a sailing mariner's wife. I took care of everything at my disposal, from household management and chores to Adrija's schooling and health. My career plans took a back seat as the focus completely shifted to grooming my child. It's overwhelming to be constantly focused on taking care of your little one, inculcating good values and manners, building good habits etc. Occasionally I lost patience, but as they say, "when the going gets tough, the tough gets going". I read blogs and books on parenting and implemented as much as I could. Taking care of my In-Laws was also a priority for me.  But during leave period I got full support from Ravi, he always inspired me to enhance my knowledge and handle the situations.
I remember one of the toughest situations I faced when Ravi was on a sail that was the urgent surgery of my Mother -In –Law advised by the doctor. I could not connect to Ravi but I took the decision solely and get it done successfully.
I was doing everything that I could to the best of my abilities in Adrija's  growing years but after an age, she started missing her father in day-to-day activities and on special occasions, be it watching a movie in the theater or parent-teacher meets or an annual day or when she achieved a milestone. When we realized that this could not be ignored anymore, Ravi decided to stop sailing and to join a base job, since the last 11 years he is with us in Mumbai (fingers crossed). He is working in the shipping department of the world's largest cement company. He works hard and is dedicated towards his job but now there is an emotional comfortability and balance between family life and professional life. My daughter has done very well in class 10th board and now she is in class 12th.
It's said that the grass is always greener on the other side of the lawn, but that's not the case with me. Today when I reflect on my 20 years of marriage, I realize that it was tough to manage the entire household alone, but it was still much better than being on a ship and hoping that things would be done. Ravi might willfully accept a role exchange because he can handle the situations both on the ship and at home but not me. Staying with all facilities on ship still mariner's life is tougher.
But one very important thing I have to say that this is our bread and butter and it gave financial stability. Everything in life comes with a price tag, unlike many we both had to pay for the financial well-being. Like everything else mariner's life is also having positives and negatives in all.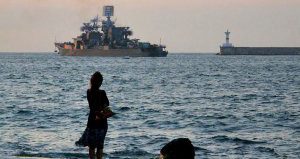 Shalini Singh
Wife of a Sailor.