Mitsui O.S.K. Lines, Ltd. (MOL) announced that on July 25, it hosted a party in Jakarta for about 200 attendees, including customers, to celebrate a major milestone-25 years since the launch of MOL business operations in Indonesia.
Among those on hand for the party were Japanese Ambassador to Indonesia Masafumi Ishii, and representatives of MOL's business partners. MOL President & CEO Ikeda addressed the gathering, saying, "Indonesia is expected to show further economic growth on the back of its abundant energy resources; it is also a vast land to the world's fourth-largest population, and its importance will increase in the global economy."
Ambassador Ishii added, "We hope that MOL group contributes to Indonesia's future through training, job creation for Indonesian seafarer and further engagement in LNG transportation from and to Indonesia. ."
The relationship between MOL and Indonesia has a long history, beginning with the LNG transport field. In 1972, MOL opened its Jakarta Representative Office, and in 1986 it established a joint-venture ship management company(Note 1) serving LNG carriers.
The MOL Group has continued to expand the range of its Indonesian business operations.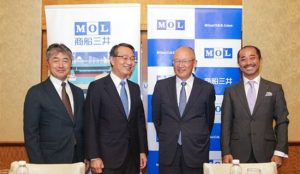 MOL Indonesia launched containership agency services as its main business in 1994, and since then, started weekly car carrier services to Jakarta. In addition, it established a logistics subsidiary. Then, in 2018, MOL Indonesia was reborn as a company that specializes in the bulk ship business, mainly the transport of energy, completed cars, and raw materials.
In addition, MOL Indonesia not only engages in transport but also participates in a gas-to-power project using an FSRU to supply a thermal power plant in West Java State (Note 2).
Indonesia's importance to the MOL Group becomes stronger every day as the nation's economy is positioned for further growth. The MOL Group, for its part, continues working to contributes to the nation's growth by meeting diversified customer needs.