"Until you have the courage to lose sight of the shore, you will not know the terror of being forever lost at sea."  – Charles Cook
The term 'seafarer' has a certain mystique to it. Had it not been for these brave, resolute and committed adventurers, the world would have been left undiscovered and unexplored. They have contributed immensely in mapping the world and charting the oceans. Despite technological advances in ship building, navigation and Communications, the job of a seafarer remains as challenging and exciting as ever. To honor the shipping fraternity worldwide and to reiterate the fact that seafarers matter, June 25 has been dedicated as the Day of the Seafarer to be celebrated every year.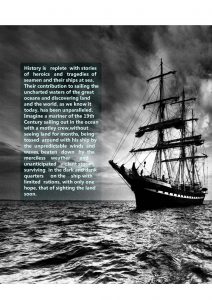 In those times, this brave seafarer did not possess any marine weather forecast, radio or satellite communication. He simply rode the gigantic swells of the high seas in his sturdy ship for months and years on end, totally cut off from the entire humanity. His only guides were the stars and his trusted sextant that helped him maintain the desired direction in the fervent hope of finding land. In such conditions, it is not difficult to envisage the ship's captain as a tyrant, for no man of lesser grit and guts can command his crew under such trying conditions. The crew too served as serfs in the blind belief that their captain would save them from an almost certain watery grave by keeping the ship on the right course and lead them in braving the storms. Charles Kettering, an American inventor, was not wrong when he said, "No one would have crossed the ocean, if he could have gotten off the ship in the storm".
With death staring in the face every time they ventured out to sea, it was natural for the daredevil seafarers to become superstitious and start believing in things that defied logic. One such superstition dictated that it is unlucky to sail or land on a Friday, because it was the day of the crucifixion.There is an oft told story of British Navy's attempt to negate the credence given to this belief and lay this superstitious belief to rest for good. According to this legend, Friday was deliberately chosen as a day for laying the ship's keel and again for launching the ship on completion. What's more, the ship was christened HMS Friday and the captain chosen for the ship was called Captain Friday. The ship's maiden voyage was also set for Friday. It set sail on the scheduled day, but was never seen again. It disappeared over the horizon with its entire crew without a trace and was gone forever.
The story is doubtful, but proves the power of superstition. Probably, clinging to superstitions, in a way, gave the seafarers a feeling that they had some control over their destiny. Things have changed for the better now, but it is difficult to say if the old superstitions have been laid to rest. In fact, they may have been replaced by new ones! The risky job of the seafarers doesmake them adhere to beliefs that are beyond logic. The world continues to admire the present-day seafarers and recognise their contribution. This was most evident in the diplomatic conference organised by the International Maritime Organization (IMO) in Manila in 2010. The conference adopted the revised STCW (Standards of Training, Certification and Watchkeeping for seafarers) Code and Convention. The recognition of seafarers by IMO, in particular, and the world, in general, is certainly a shot in the arm for all those braving the seas. The Day of the Seafarer and the theme 'Seafarers Matter' have done much to preserve the spirit of these brave hearts that is aptly captured in John Masefield's couplet,
"I must go down to the sea again, to the lonely sea and the sky;
And all I ask is a tall ship and a star to steer her by"