TRANSCRIPT OF OUR CONVERSATION WITH – MR. D. S. YADAV, FOUNDER, YAK EDUCATION TRUST.
Q1.  We are very keen on knowing about your venture in marine and how you progressed steadily? Could you give us a brief on that?
Oh yes! I am rather glad to share with you, the details of my venture and the progress made. To start with, I am a retired naval officer from the Indian Navy. So, I completed my engineering from Indian Navy. I also completed and obtained my MBA from JamnaLal Bajaj. Thus, it was very natural for me, to start my own business. However, after my tenure as Chief Engineer on board ships, I had good offers from various companies and later joined Reliance shipping as DGM -Technical. There, I observed a keen business sense that motivated me to move on for entrepreneurship. By virtue of having worked as a Chief Engineer, I got many good offers from abroad, however, I had a strong desire to be based in India.
On knowing that, the government had opened up the Merchant Navy training to the private sector, the idea clicked to grab the opportunity that made my starting.  In the year 1999, I started FPFF and STCW courses and the Pre Sea courses for cadets and GP rating in Khopoli was also established. Initially, we made a very humble starting on a profit-sharing basis with a resort. Later, of course, we had our own building. We were the first to start the DivingAcademy in 2010 and the First in Asia approved by IDSA France. I also had the honor to start first the Dynamic Positioning (DP) training in India, by an Indian company in 2010.
My aim was to help the youth in general and of that area in particular, in their development, uplifting and flourishing, so I ventured into a CBSE school in 2013 and later on upgraded it to the 12thstandard. There we have very capable IIT graduates as teachers for the senior classes.
The next step was towards the establishment of a sports Academy of world standards. We built Roller Skating Rink of World standard and have facilitated training of Indian team by the foreign coach, before going for ASIAD. Many other plans are in mind for other sports too, like swimming, skating, and tennis. We are also preparing for at least 10-12 courts for tennis and badminton.
We also have an international level swimming pool, wherein we facilitate recreational scuba diving under the qualified divers, and also a number of underwater film shootings were carried out  at our pool e.g.,
Film Talash- Amir Khan and Kareena Kapoor, they even learned Scuba diving before the actual shoot.
Happy new year-Shahrukh Khan and Deepika padunke  ,
Bang Bang , Rhithik Roshan and Katrina Kaif,
Phantom-Saif Ali Khan and Katrina Kaif,
Rangoon- Shahid Kapoor and Kangana Ranout,
Kedarnath- Sushant Singh Rajput and Sahira Khan.
And many more film shoots are in pipeline. Further, we also have a separate section/facility for underwater welding, cutting and videography training for the candidates. Furthermore, we also undertake vessels underwater surveys, hull cleaning, and videography, to the full satisfaction of the customers and the authorities.
Q2. As a business owner, what are your top three priorities?
My top three priorities are the interest in contributing to the society, thus whatever business I am in, or I plan to take up in future, it is and it has to be worthwhile to the society. Secondly, it should be of high ethical values. I had never ventured into underhand dealings. I continue to improve my own standards. Thirdly, to be truthful. Being true to self will save a lot of your valuable time. Be straightforward, and avoid manipulation, in that way ultimately, you will be appreciated by everybody.
Q3. Are there any ethical concerns that your company must deal with? If yes, how do you overcome these ethical problems?

Having Defence background, Ethical values are automatically ingrained, and I am a strong believer of God the Almighty and with age believe in doing well for all. The main aim is to give back to the society what we have received. All these facilities are created for the youngsters who can excel in life and make their careers.
Q4. When was the last time you set a challenging professional goal that you failed to achieve and what was the goal?
We have never failed to achieve anything. I have always kept my goals very high. The motto of my life is to shoot for the moon. Even if you don't get the moon, you will end up getting stars. I wanted to set up a university but we couldn't shoot to that level. So instead of that, we changed our goals to the sports academy. We are still trying but with no tension in mind. I follow the teachings of Brahmakumaris.
Q5. When you go home at the end of the day, how do you know that you've had a good day?
I always have a good day. It is a mind that judges good or bad.  Even when I feel something is wrong, I keep my mind at peace. I don't bother what others say. Challenges are what makes life interesting, and overcoming them is what makes life meaningful. We have been fighting day in and day out with several challenges, and that gives me the feeling of having a good day. It's all in the mind that matters!!
Q6. What is the one thing that brings you immense pride in your business? And how do you strive to achieve that in the near future?
I always take immense pride in everything, and I doit, to my level of satisfaction. For example, we have made a sports academy of world-class standards. Here, the Indian team is trained by a foreign coach. Soon we will be having foreigners as trainees in our place. A team from Hong Kong after a survey chose our academy for Skating Hockey Training. We areinitializingSkating Hockey very soon. In YAK, we have our name attached, and it is a short form of Yadav and Krishna, Krishna being my wife's name, and further, as you know, the word Yadav is closely associated with Lord Krishna, so all the more, it demands our conviction of honesty in everything we do.
Whenever we do, and whatever we do, we do it for making the better things!!
Inauguration of Clusters in YAK Education Trust
Yak Education Trust in collaboration with CBSE physical education and sports, organized a yearly inter-school competition for at Zonal level, for the students.  Encouraging student's participation in sports and physical education was the prime aim of this event.
The venue for Skating competition this year was Yak Public School, Hal Budruk, Khopoli. The sports event was organized from 9 – 12 October 2018. A total of 962 CBSE schools with 3500 students participated in skating championship. The total crowd was about 8000 persons including parents, coaches etc. Mr. D. S. Yadav, the founder of Yak Education Trust, was active, involved, in directing and controlling the event.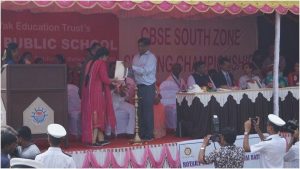 Inauguration of the Sports Event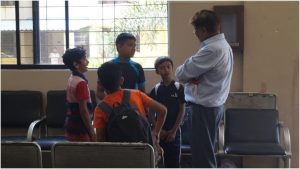 Mr. D.S. Yadav encouraging the participants.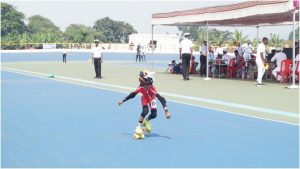 The Skating Ring, Yak Public School.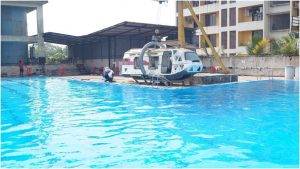 The Scuba Diving Pool, Yak Diving Academy.