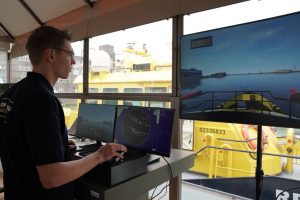 The authority of Port of Rotterdam has tested autonomous navigation by converting a patrol vessel into a floating lab including data on metrics such as the vessel's operation, power, engine, weather and water conditions.
The Port of Rotterdam Authority has armed a former patrol vessel (RPA3), floating lab. This floating lab is equipped with sensors, a camera, and other measuring units. The usage of the camera is for the automatic inspection of quay walls or detection of various objects in the water. The mix of sensors on the water and on the land develop a network and an infrastructure for investigation.
The Port of Rotterdam Authority is constantly working as how to make the ports even safer. The aim is the promotion of new technologies. The arrival of autonomous navigation is expected to leave remarkable steps in terms of safety and accessibility. It will be an effective aid for skippers and shipping traffic controller. The authorities of the Port of Rotterdam has duly signed a partnership agreement with Captain AI.
This creation in software development is an add-on to the artificial intelligence to the data that has been received by the floating lab. 'In this way, we can teach computers to navigate independently through the port and we can train the first artificial captains,' stated Vincent Wegener from Captain AI.
The Port of Rotterdam Authority COO Ronald Paul said, by cooperating with other parties, including by making our data available, we aim to promote the development of new technologies and investigate the impact of these on the port and port facilities.
The data thus received will be made available to the business community and educational sectors for the facilitation of research on the next level.