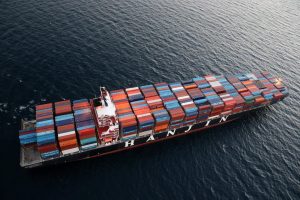 How do you kill the business of your competitors in the container shipping business? Well, you just increase the capacity of your own ships to accommodate cargo that would have otherwise gone to them!
This is exactly what happened to Hanjin Shipping Co., among other factors. In August 2016, this world's seventh largest container sought bankruptcy protection claiming a debt of $5 billion that was re-estimated by the Seoul Bankruptcy Court to $10.5 billion. However, the court ruled in favor of liquidation, since restructuring the company's debts would have been 'prohibitively expensive'.
So, what exactly went wrong? The reason was overcapacity that is currently plaguing the container shipping industry. This is probably what led to Hanjin's liquidation.
Overcapacity undercuts competition
Except for Hanjin and Hyundai Merchant Marine (HMM), the top 13 container carriers had added capacity as of June 2018. Not doing so resulted in Hanjin going bankrupt and HMM trying to exit the Transatlantic market altogether.
Let's see the capacity increase of the 12 big container carriers:
China's COSCO, a state-owned product of China's 'command economy', increased its capacity by 12.4 percent.
CMA-CGM of France not only added 16.3 percent capacity, but also ordered nine 22,000-TEU (Twenty-foot Equivalent Unit) from two Chinese shipyards. This will make it the world's largest with regard to deliveries by next year.
Hong Kong's Orient Overseas Container Line increased its capacity to 18.4 percent.
Israel's Zimm Integrated Shipping Services increased its capacity by 24.5 percent.
Maersk Line of AP Moller-Maersk, that has always maintained a lead over COSCO, added an additional capacity of 10.8 percent.
Ocean Network Express (ONE), a conglomerate of Japan's top three shipping companies – K-Line, Mitsui-OSK and Nippon Yusen Kaisha – increased its capacity by 7.9 percent.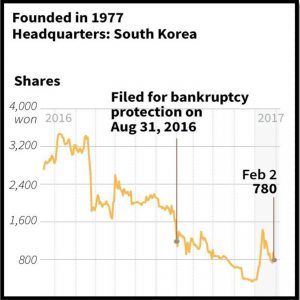 The worldwide container carrying capacity of all companies, both big and small, increased by 9.3 percent year on year. Of this, for the top 13 shipping companies, including HMM, the average capacity increase was 8.5 percent. This resulted in the China Containerized Freight Index (CCFI) to hover at 821 on Friday. This despite its shocking collapse in April 2016 that plummeted to 636. The CCFI is a measure of the financial implications of shipping goods by sea around the world. It covers major ports in China to 14 regions around the world, tracking contractual and spot-market rates for shipping containers.
Merging to survive
The shipping world witnessed a spate of mergers for increasing their capacity:
AP Moller-Maersk, the parent company of Maersk Line, bought Hamburg Süd from Germany's Dr Oetker KG for €4.3 billion.
Hapag-Lloyd, after failing to merge with Hamburg Süd, merged with United Arab Shipping Company. However, the largest shareholder of Hapag-Lloyd is Chile's Grupo Luksic with 20.7 percent shares. Following it are three companies with 14 percent ownership of shares – Kuehne+Nagel AG of Germany, the City of Hamburg and QIA of Qatar's national wealth. Ten percent shares are owned by Saudi Arabia's Public Investment Fund.
On the anvil was the purchase of OOIL (Orient Overseas [International] Limited) of Hong Kong by the Chinese COSCO for $6.3 billion. OOIL is majorly owned by the rich and powerful Tung family of Hong Kong. However, the deal could not go through due to the objections raised by the Trump Administration as part of the trade war and the reluctance of Chinese Anti-Monopoly Bureau in Beijing to approve the purchase of OOIL.
The losses in container shipping companies are set to mount and it is just a matter of time when some other top shipping company follows in the footsteps of Hanjin Shipping Co. to bankruptcy. However, the key to survival for all shipping companies is to proactively keep act according to the changing container shipping scenario.