We are here with Capt. Mrityunjay Kumar , a pioneer of the shipping industry.  Our sub-editor, Shivam Sargam, grabbed a chance of getting a sneak peek into his life. Transcript of conversation between Captain and our Sub-editor.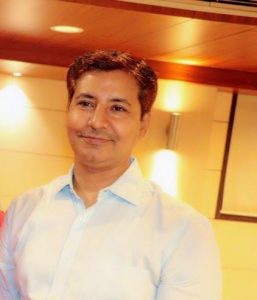 Q. How did you felt when you stepped on the gangway for the first time?
I was a trainee, and very nervous. I was equally anxious to step into a new life. I had many thoughts and various questions going through my mind about the next days I was going to spend on the vessel. That was a moment when I realized that I am really made for sea.
I got the feeling that "Sailing Makes Everything Better." For me it was amazingly true.
Q. How many years have you sailed? How was your experience at sea?
I have been a seafarer now for over 20 years.  I had some good and bad days. I am very happy to be a seafarer and don't regret it at all for choosing it as a profession.
Q. India is the first country to come up with the concept of SID. What are your views regarding the same?
It will have a massive effect on a seafarer and community. Seafarers will be more secure, it will stop fraudulent practices. It will be a great monitoring tool for the monitoring authority. The simple example is, how it will ease seafarers' life is that banks will issue credit cards easily as they will now have a more trustworthy system of monitoring seafarer customers.
Q. Do you think by 2020 India will be capable enough to implement sulfur cap?
It will increase the operating cost in all ways. There will be a shortage of .5% sulfur oil, which will be supplied at an increased cost. Even if an Indian ship-owner wants to use a scrubber instead, it will have installation and maintenance costs. With GST and upcoming higher operating costs, the shipping will definitely take a hit.
Q. Seafarers witness fatigue and depression on board. What measures should be taken by them to avoid such situations?
In my opinion, MLC 2006 has adequate rules which if followed accordingly, will keep the seafarers without problems and focussed. Apart from this, it needs a joint effort from Flag state, company and ship staff to sit and discuss upon reducing stress due to job insecurity, fixed rotation, and malpractices existing to secure a job. Trust me or not, right now, job insecurity is the biggest stress a seafarer has on the back of his head.
Q. ILO has powered women, young seafarers. In your view what initiatives should be taken by DG shipping to open the gates for women seafarers?
It is a great step by DG and I appreciate the thoughts behind it. It is a step that will change the image of a seafaring society. Even MLC 2006 includes rules to ease and secure a lady seafarers' life onboard. When I started, a lady seafarer was unheard of. Today, I myself have trained lady seafarers onboard and proud to see they grow to uphold higher posts.
Q. Message for the young seafarers.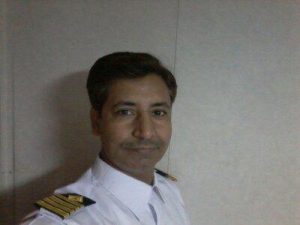 Always keep yourself motivated. For you People Sea is the limit. Keep the spirits high. Sail Safe and be safe.
Thanks a lot, sir, for sharing your life experience with us. Each word of our conversation will be an inspiration for us. We wish you all the best for future endeavours.