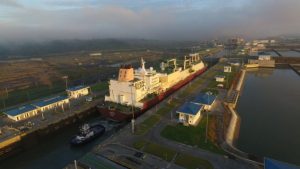 The Panama Canal and UN Environment have signed a cooperation agreement to join efforts on sustainable development and combating climate change.
The deal includes the exchange of experiences and knowledge, the development of programs and research in areas of shared interest, and human resources training across both institutions.
Panama Canal Authority explained that the disruption of rainfall patterns due to climate change is one of the main threats to water levels in the watershed of the canal, that sustains more than two million inhabitants while producing energy and enabling the operation of the inter-oceanic route which serves around 2.5% of world trade.
"We will work closely to protect the environment and promote climate change mitigation and adaptation programs that guarantee the water supply for the inter-oceanic route," Leo Heileman, the Regional of UN Environment in Latin America and the Caribbean, said.
Jorge L. Quijano, the Administrator of the Panama Canal, indicated that the Panama Canal maintains a policy that complies with the best environmental practices by minimizing their impact on the waterway operations and ensuring rational and sustainable use of natural resources with emphasis on water. The arrangement includes cooperation efforts between both organizations in areas such as the creation and management of environmental economic incentives, integrated watershed management, water availability, air quality, renewable energy, energy efficiency, and electric mobility, among others.