Transcript of our conversation – Master Mariner Capt. Subodh Awasthi, Managing Director of the Aurus ship management with Shivam Sargam.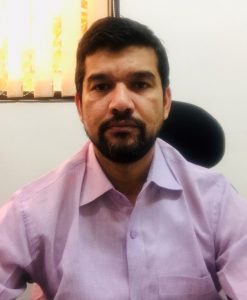 Q.1. The days when you joined merchant navy the profession had so much of charm. In your opinion does the charm still continues, or it is lost?
In my opinion shipping is going the same way adopting technological and commercial changes, as any other industry. Charm is not the same as earlier, since the criteria's have been changed from both employer and seafarer's end. Reason being, the mind-set & attitude of seafarer going on board has changed a lot. Earlier people used to go on board to see the world and have a good life. They used to feed their hunger for adventure through marine field.
Now of course the hunger for adventure has been replaced by the money. Secondly, the life is no easier on board. It is now becoming tough and tougher day by day, each day.
Q.2. How was your experience as a cadet and then as a master for so many years?
My cadetship was be very vigorous and fun. The quality training we underwent made us capable enough to be surviving under all adverse conditions ashore also I remember I did my first vessel as cadet for about 13-14 months. Even as junior officers I was always sailing 7 or 8 odd months and it was never like we were tired. We lived and enjoyed every moment. Sailing at our time was hard. Still we were content enough. Ships were not having so many facilities, no internet & lack of connectivity. We used to call once in a while. We were very happy when we used to get letters. Now everyone is like 24/7 connected but no one is satisfied. Here people go for 4 months and the tiredness begins. It's not the people but probably the trend is that way.
The vessel turnaround is much faster with the fewer crew. Now, the Crew is reduced and the workload has increased. Ship Owners/ Managers they are working on tight budgets, Operational movement is faster and due to this everyone wants to run the ship as economically as possible, resulting burden increasing on board seafarers.
Q.3. You have sailed for such a long tenure. What motivated you to sail?
For me the job itself was a motivation. Being part of Merchant Navy or Defence or Medical is like a paying tribute to one's nation. These are the only professions where your work comes before your family and everything else. I have a zeal of adventure in my blood, to see new culture and people. Earlier we all used to have lot of port stay but these days port stays are pretty shorter, due to faster turnaround. At times one finishes his full contract without stepping ashore. This puts a lot of pressure like one is house arrest sort of thing but at the same time there is pleasure too. It's like the "life provides the wind & you control the direction of its sail".
Q.4. Being Managing Director of the Aurus ship management, how do you synchronize your work being an owner seafarer and the staff member?
For me, working in the office or working with the Aurus is same like a family. I always treat this as one of my family and the other family is back home. In a way I am always with my family. This family provides me with money & respect. It is like my extended family. During weekend when I work I bring my kid in office. So we are always connected. Trying to maximize the time between this family and that family. We got about 65 guys in this office. So we are like a family whom we know from last 5-10 years we are working together. I have a passion for my work and love what I am doing. Being honest to my work is my priority and rest all the things automatically fall into places.
Q.5. DGS has made strict rules regarding the recruitment of seafarers. What are the constraints you face due to those rules? And in your opinion how can industry deal with that?
The rules of DG is not a problem for us. We are already following all the regulations of DG. The problem is for those non RPSL companies which do not follow the regulations properly. Aim should be to catch those guys who are not paying taxes and are indulge into frauds.
The government's new rules may become tricky at times, as shipping is international trade and majority of RPSL companies are dealing with foreign tonnage and foreign client. In order to ease of business we need to consider the contractual obligations of others too. The government should be promoting all those companies who are having a clean name and operating it honestly. Aim should be if we want to raise our bar we should focus on finding who is doing right rather focusing or finding out what someone is not doing.
Q.6. As a service provider to the industry, what message you will give to the young seafarers?
Being a service provider I must say the young generation is lot smarter and more aware. They need to channelize the energy, knowledge and interest in right direction with good attitude. They are sitting on driving seat, who need to be aware with the course they are following (our job requirement in relation to present financial shipping market condition). We should be far sighted and not short sighted. Young chaps need to understand since we are in global market, we need to be competitive, economical and with good attitude.