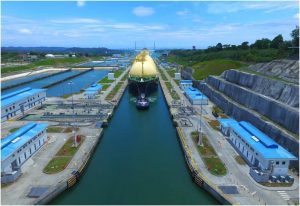 The Panama Canal crossed a record tonnage of 442.1 million Panama Canal tons (PC/UMS), with a rise of 9.5 percent over the last year. The Panama Canal locked its fiscal year 2018 with an exceptional record.
The Panama Canal surpassed the cargo projections of 429.4 million tons of PC / UMS, whereas 403.8 million PC / UMS tons was recorded in the FY 2017. The hike was driven by the passage of Liquefied petroleum gas (LPG) and Liquefied Natural Gas carriers, Container Vessels, chemical tankers and vehicle carriers.
The container sector continued to aid the leading market sector via the canal. 159 million PC /UMS tons of the overall cargo, of which 112.6 million PC / UMS tons passed the expanded canal. The various tankers like LPG and LNG carriers followed closely with a sum of 130.3 million PC / UMS tons in total.
The bulk carrier sector ranked third with 73.7 million PC / UMS tons, Vehicle carriers ranked the fourth place with 49.5 million PC / UMS in the current year. The prime route used by the Panama Canal in FY 2018 was that of the Asia and the East coast of U.S, the West coast of Southern America and the U.S. East coast and intercostal South America.
The prime users of Panama Canal over the period were the U.S., China, Mexico, Chile, and Japan, whereas 62.8 percent of the total vessels passing the canal had its origin or destination in the United States.
The Panama Canal is also expected to have nearly 234 cruise ships through the New Panamax and Panamax lock for the upcoming cruise season 2018-2019. The expanded Panama Canal started from June 26, 2016. The expansion increased a new and third lane doubling the capacity of the canal. Most significantly, it fitted in Post-Panamax ships.
Each measuring 1,200 feet long, carrying three times more cargo of 965 foot long Panamax ships. Panama collects $1 billion in tolls from the canal which is on a flying way to increase in the coming future.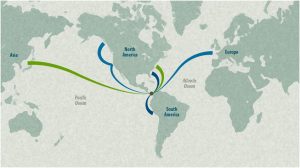 The main route of The Panama Canal accessing Asia, Europe, South America and North America crossing over Atlantic and the Pacific Ocean,