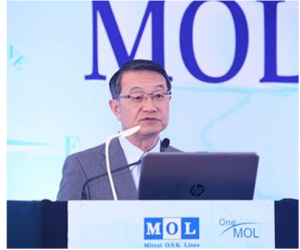 TOKYO: Junichiro Ikeda, President & CEO of Mitsui O.S.K. Lines, Ltd. (MOL) publicized of late the fact of formation of a broad investigative collaboration to initiate a sophisticated routing support scheme. On behalf of MOL he has signed agreement with Hirokazu Hatta, President, MOL Techno-Trade, Ltd. (headquarters: Chuo-ku, Tokyo), Dr. Hiroyuki Yamato, President, National Institute of Maritime, Port and Aviation Technology (headquarters: Mitaka-shi, Tokyo), and Dr. Toshio Takeuchi, President Tokyo University of Marine Science and Technology (TUMSAT, located at Minato-ku, Tokyo) for the project. In the collaborative work, fundamental exploration on advanced navigation support system will be performed by all participant bodies. The complicated routing support scheme is crucial for safe steering of conformist ships as well as the future generation independent ships, under the mentorship of TUMSAT Honorary Professor Dr.HayamaImazu. The aimed development of the navigation support system is chiefly based on the concept of Obstacle Zone by Target (OZT) which is known to be a notable measure of risk of collision of ships through involving Automatic Radar Plotting Aid (ARPA) and similar technologies.
OZT defines a region where a ship is in potential risk of crash with a ship in close proximity. An exhibit, displaying the OZT on the sight from the bridge corresponding the OZT's route to that of the view, facilitates to decide if there is a chance of a collision.
MOL group carries on endorsing its scientific growth scheme, "ISHIN NEXT – MOL SMART SHIP PROJECT" – and leads in proceeding to adapt and expand technologies resulting in cutting down harmful effect on atmosphere and ascertaining secure and dependable convey services.