Transcript of the conversation- Marine veteran Mr. R.A.Deshpande, Ex-Director of T.S Rahman and surveyor of MMD with Kanishka Vishal. 
Q. You have  played different roles in the marine industry, starting from cadet to being the director of one of the most prestigious institute T.S Rahaman. How did all that start and take turns in your life?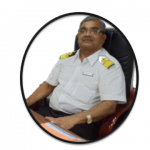 I come from a lower middle-class Brahmin family. My father was a Sanskrit school teacher. He didn't earn enough. I completed my Bachelors in Mechanical Engineering with financial aid from various agencies and the national scholarship. I decided to join Telco. During my stay in Pune, I read about the merchant navy in an advertisement. I appeared for the interview at Shipping Cooperation of India and I joined as a TME. On the first ship, I had a small accident, and my parents insisted I leave merchant-navy. I worked briefly with the Walchandnagar machinery division. Later I decided to go sailing and be a second engineer, at least.  I went on to become a chief engineer. I worked ashore with SCI.  I streamlined the purchase department and management in SCI. Every now and then I served as visiting faculty because of my interest in teaching.   I was offered a job on deputation on T.S Rajendra. Under the stewardship of Captain S.S.S Rewari, we decided to start the BSC nautical sciences course for the nautical cadets.  That helped them to diversify their career options like IAS, IPS and other services that demanded a bachelor's degree. We also approached the chancellor of Mumbai University who helped construct the entire documents and syllabus for BSc.  In 1998 my deputation was over and then I went back to sail again. Later on, I joined TS Rahaman and during that, I was also approached by various other agencies to do environment compliance audits.
There has been a drop down on employment, or say the number of unemployed mariners is increasing. What is the basic reason for this?
Unemployment is not because of one particular reason but several other factors too. First of all the world is undergoing a financial recession. Buying capacity of people has reduced because of the unequal proportion of supply and demand.  Moreover, countries like Russia, Kuwait, China and other Asian countries are participating in the job market of merchant navy which was not the case earlier. Also, our administration has not been updated with the demand of time.
60% in 10th standard and 12th standard in 1970 was a very difficult task to achieve but today in 2017, to get 60% is not a tough task. But the intake criterion is still the same in this profession. The students who are joining merchant navy today are not up to the mark.
If we want to improve the standard of seafarers we should not carry out the fault finding exercise but the fact-finding exercise. We should have serious discussions about changing the eligibility criteria, improving the attitude of seafarers who are joining the merchant navy, and ensuring that all institutes follow the same.
Q. Once you had appeared for exams to get CoC, and now you conduct the orals of marine engineers as an examiner. Sitting on the other side of the table, do you notice any change from your time?
The system today is more transformed and advanced. It is democratic. At our time it was more of autocratic. If you have failed in the written, you will fail in orals too. The exams were not categorized by functions. Today examinations are "Function" wise. There are always two and more surveyors (examiners) taking up the orals, so there is no chance of personal bias against any candidate.  The most important thing is that the entire examination process is under CCTV surveillance, so naturally, the candidate is getting proper justice and his knowledge is analyzed in a much better way of evaluation. The numbers of questions asked by the examiners are much more and that gives them a fair chance to pass.
But when you talk about the students, they join merchant navy as a last choice. It's not the first preference; naturally, we are not getting the cream of the talent. We are not getting the requisite talent who understands who is having the sound foundation, basic knowledge. Eventually, the time required to pass the exams increases. We have lost the dignity of the labour.  Today our youngsters do not want to do the service engineering jobs or the jobs where you get your hands dirty. Their approach is more materialistic than the previous generation.
The zeal for merchant navy has drastically reduced among present generation. People are not aware of the contribution of the merchant navy in developing India. Our administration, training institutes, ancestors have failed to convey the contribution of seafarers to society. We call it a lifeline of the nation but many people are not aware, what does lifeline mean.
Q. You have a huge sailing experience but at some point of time you must have felt low or troubled. Being a sailor is considered to be tough always. What would you suggest for the young sailors to keep the mental balance even at low times?
The manpower on the ship doesn't put effort to mingle while sailing on the same ship.  The nature of employment has been modified into the contractual job. The loyalty factor is a huge missing these days. They don't consider themselves a part of the company. Once they go down from the gangway, they tend to forget each other.  There is no social connect now. People are least interested in making real life connects. They are more materialistic, all they want is money.
I joined this profession because I wanted to see the world, money was not that important to me.  Today if you ask a boy why he wants to join this profession, he will probably say that he wants to earn in dollars for 10 to 15 years and go for some business later.  The dedication for merchant navy is majorly lacking. He won't be able to support the profession honestly.
Professionals need to change their attitude first. Moreover, everyone should inculcate a good hobby to engage themselves in idle hours, something that builds personality.  They should be honest with their colleagues. Our motto is Satya-Mev Jayate (सत्यमेवजयते), we need to follow sincerely. They must consider fellow mates as their family to develop required rapport.