SEOUL: An 11,000 TEU capacity container ship furnished with the radical SOx scrubber system has been started by Hyundai Merchant Marine (HMM), Korea's biggest shipping firm by Container capacity, for substantially reducing sulphur discharge. The launching ceremony for the massive vessel named HMM PROMISE recently took place in Busan. In last August, Subic-based Korean shipbuilder Hanjin Heavy Industries & Construction delivered the scrubb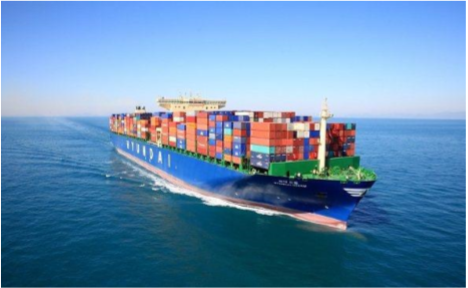 er system which was thereafter retrofitted to the ship in Philippines. This operation was done to obey global environment protection standards to come into force from 2020. An HMM official designated HMM PROMISE to be the world's foremost commercial container vessel exceeding 11,000 TEUs fitted with such a huge scrubber system and its engine that guarantees best profitable performance and speed.Since August 2016, after the state-run Korea Development Bank took over HMM, the HMM PROMISE is the first built large Container Ship for HMM.
The consolidated container ship capacity of HMM is now about 410,000 TEUs which is one-tenth of that of Maersk Line, the world`s biggest container shipper.From HMM sources, it is known that eastern and western coast of South America will be served by HMM PROMISE and HMM BLESSING, a twin vessel brought from the same harbour, respectively.