Indian Prime Minister Narendra Modi introduced the inland port, the first ever string of inland waterways and terminals that the central government aims to develop.
The multi-modal terminal has been built on the River Ganga in Varanasi (Kashi) his parliamentary constituency.
He also received India's first container vessel that navigated from Kolkata on the newly-developed inland waterways. The consignment consisted of food and beverages. Modi was accompanied by Union Shipping Minister Nitin Gadkari, Uttar Pradesh Chief Minister, Yogi Adityanath and BJP state president Mahendra Nath Pandey, who is also the MP of the neighboring Chandauli Lok Sabha constituency during the event.
The 1,390 Km (863 miles) Ganga watercourse is one of the 111 waterways stretching over 20,276 Km that India is strengthening to configure. The World Bank is aiding National Waterways -1 (River Ganga, Jal Marg Vikas Project). The estimated costing of the project is Rs 5,369.18 crore, being a joint venture of the Centre and the World Bank equally. Three more terminals are under development namely at Sahibganj, Haldia, and Gazipur. This will enable the commercial voyage with the capacity of 1500-2,000 DWT of the vessels on the river Ganga to be started by 2023. Two inter-modal terminals, five roll-on-roll-off (Ro-Ro) terminal pairs, new navigation lock at Farakka in West Bengal, assured depth dredging, integrated vessel repair, and maintenance facility, a differential global positioning system (DGPS), river information system (RIS), river training.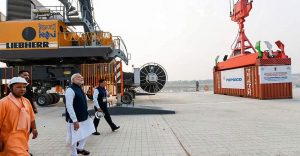 The motive behind the promotion of inland waterways will lead to a cheap and environment-friendly mode of transportation, especially when talking of cargo movement. The inland vessel MV Rabindranath Tagore that navigated from Kolkata on October 30, was carrying food and snacks from PepsiCo Inc. The vessel had 16 containers, which is the equivalent of 16 truckloads.
The Inland Waterways Authority of India (IWAI) is the project implementing agency whose vessel will make its return voyage with fertilizers from Indian Farmers Fertilizer Cooperative Ltd.
Mr. Prime Minister dedicated the achievement to the nation. Eastern Uttar Pradesh is now connected with the Bay of Bengal, through the water route, said the PM. Inauguration of the Varanasi Ring Road Phase 1 and the development and construction for four-lane of NH-56 was also on the list. Various other projects were also unveiled in the constituency.