The U.S. Energy Information Administration (EIA) anticipates that the share of big sulfur residual fuel oil used as a bunker in the U.S. will witness a downfall from 58 percent in 2019 to 3 percent in 2020, and then revived to 24 percent in 2022.
The report, The Effects of Changes to Marine Fuel Sulfur Limits in 2020 on Energy Markets, implies that even though a recent boost in scrubber installation and orders, the number of vessels installed with scrubbers needed to carry forward using high sulfur residual fuel oil remains limited. As a result, a huge but brief raise in the share of distillate fuel oil and low-sulfur residual fuel oil is anticipated in 2019 and right away after 2020.
An improvement in high sulfur residual fuel oil consumption driven by scrubber installations is not anticipated to occur until 2022 but at layers far lower than before the 2020 IMO sulfur cap.
After 2023, high sulfur residual fuel oil consumption is anticipated to lessen down to a 22 percent share of U.S. oceangoing marine vessel bunker fuel by the end of 2025.
Low sulfur residual fuel oil used up is anticipated to raise from 38 percent in 2020 to 43 percent in 2025. Likewise, the EIA projects that they need to use distillate in lower sulfur bunker fuels will raise distillate's share of U.S. bunker requirement from 36 percent in 2019 to 57 percent in 2020, although this share drops to 29 percent by 2025.
The EIA predicts that the usage of LNG in marine bunkering will be limited through 2020. Its use is anticipated to be limited for the next five because of the limited current framework at U.S. ports. In the medium and long term, this infrastructure barrier is expected to decline, and LNG's share of U.S. bunkering is expected to rise to seven percent in 2030 and to 10 percent by the year 2050.
Despite bunker fuel's comparably small share of both the global and U.S. liquid fuels markets, EIA awaits a shift in demand in the global bunker
fuel market from high sulfur fuel oil to low sulfur distillate fuel and low sulfur fuel oil. This shift will lead to a change in the relative prices of those fuels, and EIA anticipates the demand shift to raise global prices for light and low sulfur refined petroleum goods such as diesel fuel, gasoline, jet fuel and low sulfur fuel oil.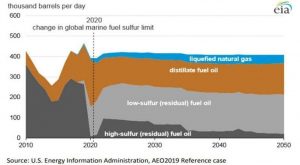 This shift, in turn, will result to a decline in the price of high sulfur fuel oil. This price premium for lower sulfur refined goods will be most apparent at the wholesale (refinery and bulk terminal) level in the form of raised refining margins for low sulfur products such as diesel.