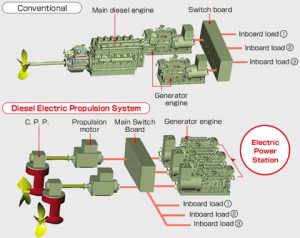 In order to meet the challenge of high operating cost and marine pollution, ships propulsion system have changed from conventional power system to electric propulsion system.
In case of conventional propulsion system the propeller is driven by main engine which is running on heavy oil and in addition to it we were having another diesel driven alternator to take care of other loads so these system were causing operating cost to go high.
In case of electric propulsion system the propeller has become a load and ships alternator can take care of all these loads.
BENEFITS OF ELECTRIC PROPULSION SYSTEM
The drives used in electric propulsion system are known for its smooth and silent operation reducing noise and vibration level .Due to low vibration and noise the comfort has increased.
At reduced speed of propeller we can select the number of generator on bus according to load demands and this will increase engine efficiency and reduced the fuel consumption and operating cost.
Reliability is higher and availability of standby alternator makes the propulsion system redundant
Due to the flexible torque – speed characteristics of motor, the propeller can be driven at all possible speed and torque without limitation within design limit .High torque can be achieved at low speed.
EXCELLENT DYNAMIC CHARACTERISTICS
During maneuvering the change in propeller speed and direction can be carried at faster rates as it is required during maneuvering condition.
As the propulsion load varies the generator can be operated within optimal range which in turn reduce fuel consumption and emission of NOX/NO, CO, CO2 and soot.
As compared to diesel mechanical driven ships, in this system maintenance and spare demand is reduced.
ELECTRIC PROPULSION
This system consists of prime mover which are usually diesel driven turbine or steam driven .In any of the system stated above will produce less pollution as compared to conventional system for propulsion.
A big motor it can be A.C or D.C is connected to propeller shaft which is known as propulsion motor and power to that motor is being fed from ship's generator and prime mover assembly. The generator can be D.C or A.C type having prime mover either diesel or turbine driven depending upon owner's choice and load requirement.
The change in the direction of rotation of propeller can be achieved by either changing the electrical supply or by electrical control of the motor. For fixed pitch propeller the variable speed motors are used and for CPP or variable pitched propeller a constant or variable speed motor are used.
The electric propulsion system used on merchant ships is categorized into twotypes depending upon type of prime mover attached to it.
SHAFT IN LINE PROPULSION
Justifying the name, the shaft from prime mover is used to turn the propeller by either with the help of high speed motor or by reduction gear or directly by a slow speed motor. For this purpose synchronous as well as asynchronous motor can be used. Depending upon the power requirement of vessel the motor as well as system output voltage can be determined.
POD PROPULSION
Pod propulsion is a combination of propeller and steering system. The place where propeller is fitted into conventional propulsion system at the same place pod propulsion unit is fitted .The propeller is directly connected to motor shaft and motor is mounted inside the pod.
The pod assembly can rotate 360 degree and gives an easy ahead and astern control eliminating the need of CPP or reversing prime mover. In order to facilitate the rotation of pod propeller slip rings are used to supply power from motor to pod unit .To change the speed or direction of propulsion motor VFD or CYCLO CONVERTER are used.
APPLICATION OF ELECTRIC PROPULSION SYSTEM
DREDGERS
DYNAMIC POSITIONING VESSEL
TUGS AND TRAWLERS
ICE BREAKERS
RESEARCH SHIPS
VESSELS FOR OFFSHORE INDUSTRIES
FLOATING CRANES
FERRIES