Captain Radhika Menon is a name that holds every Indian's head high with pride. A woman who has engraved her name in golden letters in the pages of global maritime history by becoming the first woman in the world to receive the International Maritime Organization Award for Exceptional Bravery at sea.
Capt. Radhika Menon has a knack for making history. A native of Kerala's Kodungallur, Captain Radhika Menon did a one-and-a-half year radio course at the All India Marine College in Kochi. She was the first woman radio officer in the Shipping Corporation of India (SCI). While serving on board as Radio Officer she was fascinated towards navigation and decided to convert to navigating officer. She moved step by step more, with continuous studying and clearing the required exams for the posts of second mate and chief mate. She served out her hours at sea required to appear for the master's certificate.  2012 She historically was the first woman captain of the nation to take charge of a Merchant Navy ship – the MT Suvarna Swarajya.
22 June 2015. Kakinada Storm.
The fishing boat 'Durgamma' was adrift in a storm after engine failure and loss of anchor due to the harsh sea weather. The boat was originally from Kakinada, Andhra Pradesh, drifted to Gopalpur off the coast of Odisha. Saving the life of seven helpless fishermen ranging from the 15-year-old, Perla Mahesh to 50-year-old Narasimha Murthy. These fishermen were alive on ice from the cold storage as their food supplies had been washed away with the storm for almost a weak.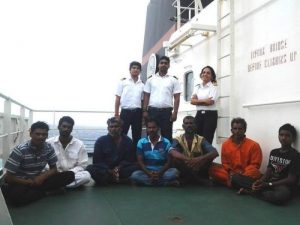 Capt. Radhika Menon was in command aboard the oil tanker Sampurna Swarajya when she spotted the fishing boat 2.5 km off the starboard bow, 53 Nm off the coast of Gopalpur, Odisha. Captain Menon immediately ordered a rescue operation. The rescue was carried out through wave heights of more than 25 feet, winds of more than 60 knots and heavy rain, using the pilot ladder and the life jackets. It took three breath-taking attempts in the in saving all seven weak and starving fishermen.
The government of India nominated her for the ninth edition of the esteemed International Maritime Organization awards, for bravely rescuing all seven fishermen.
The International Maritime Organisation (IMO) is the United Nations specialized agency with accountability for the safety and security of shipping and the prevention of marine pollution by ships. The award is established by IMO to provide international acknowledgment for all those who perform acts of exceptional bravery, in trying to save a life at sea or in trying to prevent or diminishing the marine environment, often risking their own lives.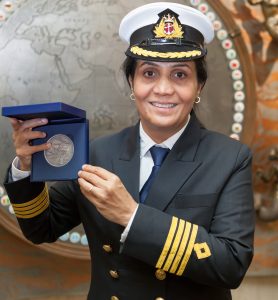 The IMO Council, in its 116th session in London, approved the decision of a committee of Judges that Captain Radhika Menon showed great dedication and courage in leading the difficult rescue operation. The Awards ceremony took place at IMO Headquarters on November 21, 2016, at the end of the first day of the Maritime Safety Committee (MSC).
The Marine Express was fortunate and privileged enough to have a glimpse into the life of Capt. Radhika Menon through a heart to heart telephonic conversation with her.
Q1. How did you feel when you stepped on the gangway for the first time?
The first ship of mine was a passenger ship called MV Tipu Sultan of Shipping Corporation of India sailing between Kochi and Lakshadweep. I joined from Kochi and the feel was really good. Initially, when I cleared my exams, there was a lot of resistance & apprehension regarding this profession from my family. After convincing them, I moved further and it was like a dream come true. It was more of a curiosity to know what was in store for me.
Q2. The shipping industry is a shadow career for women. What are your views regarding that?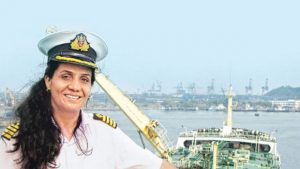 The shipping industry is not a shadow career for women anymore. But, reaching out for safety and comfort being a primal yearning hardwired in us all, most women willed jobs with other women co-workers and the clear majority were + women ready to venture into the unknown, to these "no women's lands" on one day and there were pioneers on the next. In the end, it is the path through which life takes us that decides. Every step elapsed may lead one to a place and time in life wanting for the obvious go-to or something beyond, something adventurous, difficult and fun. If something was once a shadow career it was only a matter of time till it wasn't anymore.
Q3. As a first woman to have her name written in golden letters globally in maritime. How challenging it was for you?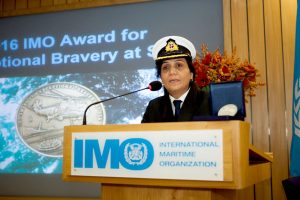 It wasn't a prize for excelling in a challenge, but appreciation for carrying out my duties. I was just rendering my duty, carrying out the rescue operation which I did in the stormy weather, making sure it is done successfully and safely.
The ship is teamwork. When I ordered this rescue operation, my crew, fully co-operated with me. They went on the deck to get things ready for the rescue. In the midst of a storm, the manoeuvre was challenging and three attempts were made to successfully carry out the rescue. There were no causalities. The fishermen were given first aid and were allowed to call home via sat -phone. They had called just in time to halt funeral proceedings as they were missing for seven days and the same weather had claimed the lives of about 30 other fishermen.
The seafarers are very strong people. They are trained to solve a lot of situations and a lot of emergencies. Be it a master or any seafarer, they have the maritime obligation to save souls in distress. So, I was just doing my job. With the grace of God and great teamwork, we had facilitated their much-awaited return.
Q4. Any major change you want in the shipping world?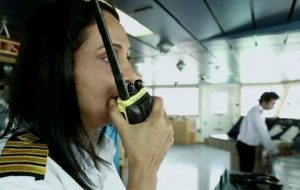 International Maritime organization has done a lot for promoting and increasing the number of women in the maritime sector. The contracting governments have also followed the suit.A great such step of IMO is setting up of women in the maritime sector example: Arab women in the maritime sector.
In India and few other countries, there are a lot of women persuing Pre Sea on shore training. The absorption of the female by shipping companies being very minimal. The females who are in surplus are struggling around in the streets in search of placement on board. Getting into trouble with the middleman, they cheat them of their money. If something can be done to give these girls at least a chance for an interview, I am sure they will prove themselves.
We have launched the International Women Seafarers foundation for mentoring girls and for solving the problems of these girls. We believe that girls will do a good job and they are equally competent as boys.  The hunt for a job is very costly. There are girls who have passed out and are still hunting for jobs. The maritime study is such a way that their training is complete only after they go on a ship. So that is a crisis. Slowly things are changing but the change should be in the pace with the present scenario.
Q5. What are your contributions to the mentoring of the female seafarers?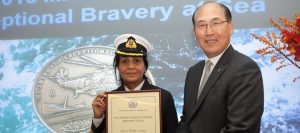 We have launched an International Women Seafarers foundation (www.iwsf.com) on November 3rd 2017. The foundation has been conceived with the intention of promoting and supporting women seafarers in their sailing career. A woman faces numerous social challenges in their pursuit of a sailing career. Young girls, more often than not, when faced with unusual circumstances, are unable to take the right steps at right time, leading to complications for peers and companies employing them.
Q6. What do you do in order to keep yourself motivated?
Apart from sailing, I engage myself in community service. I go to my mother's village. I like working for charitable organizations, for deserted old people. Then the time lapses… and I have to move back to the sea.
Q7. What you have to say to the women at sea?
They are all doing a very good job. They have to be focused on whatever they do. Do such a wonderful job that people who have negative apprehensions are rid of. And, that will open the gates for more and more women.